An Employer Value Proposition or EVP is very much a buzz word in the HR and Recruitment communities at the moment. But what is an EVP and what are the top benefits of having one?
What is an EVP?
An Employer Value Proposition (or sometimes known as an Employee Value Proposition) is all about your brand as an employer and what you offer your employees.
A strong EVP will clearly communicate the culture, working environment, and benefits of working for your organisation. It should differentiate your brand from your competitors so that prospective employees can decide whether you are the best company for them to join.
What are the benefits?
A well thought through, clearly communicated and properly implemented EVP will have many benefits. We've highlighted the top 5 ones below: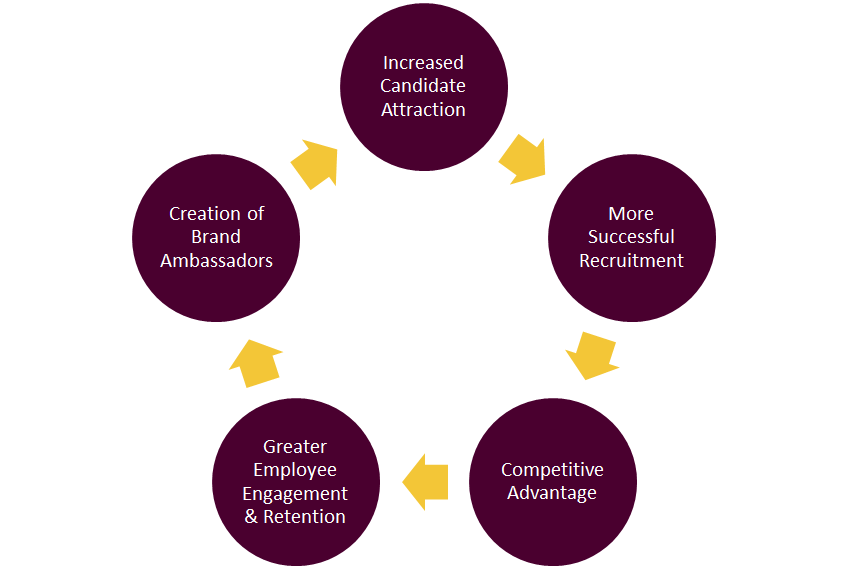 1. Increased Candidate Attraction
Top talent is a valuable commodity in the current market and a key benefit of a strong EVP is that it will allow potential employees to see why you are an Employer of Choice. Organisations who promote their EVP via their website and have a dedicated careers microsite see a significant uplift in the number and the quality of candidate applications received.
2. More Successful Recruitment
It's really important that the messaging in the EVP matches the employee experience once they join the organisation. Your EVP should be firmly embedded in your induction and onboarding processes, as well as the ongoing experience of the employee.
This will lead to candidates having realistic expectations of the culture and values within the company and ensure that these are aligned with their own before they join. This reduces the risk of employees leaving because they are not the right cultural or personality fit.
Simply put, you'll recruit the right people first time.
3. Competitive Advantage
Clear communication of a strong EVP throughout your marketing materials will also lead to customers and suppliers getting a great sense of your culture and values, and deciding that they want to do business with you.
This can give you a fantastic competitive advantage in your marketplace. It can also provide your employees with a greater sense of fulfilment and engagement by continually delivering to satisfied customers.
4. Greater Employee Engagement and Retention
As well as an EVP delivering happy customers to help keep employees engaged, a strong EVP will also focus on what employees really want from the business, and deliver on it. This then leads to happier employees who are more engaged in their work, and less likely to leave the organisation.
5. Creation of Brand Ambassadors
Happy employees who are engaged with your business are likely to become your best tool for promotion of your brand. If your EVP is working properly, then your staff should become Brand Ambassadors for your organisation when dealing with both internal and external stakeholders; customers, suppliers and potential employees.
This is likely to lead to positive reviews on sites such as Glassdoor which in turn, will lead back to the start of the cycle of increased quality candidate attraction and more successful recruitment.
However, this is unlikely to be sufficient to attract the best performers.
About Us
At Hiring Wizard, we are experts at working in partnership with you to attract the best quality and quantity of candidates for your vacancies. From developing really strong Employer Value Propositions, to highly optimised job board advertising, we deliver highly efficient and cost effective recruitment processes.
We also design bespoke and responsive careers microsites that inform candidates and really demonstrate your brand values as well as having a proprietary state-of-the-art Applicant Tracking System.
So if you want to improve the quality of candidates you receive through your own website, give us a call on 0161 696 8899 or email us on info@hiringwizard.co.uk