With record levels of employment across the whole of the UK in 2019, recruiting talented and motivated staff has been a huge challenge across all sectors and industries.
Our recent Bi-Annual Recruitment Trends Survey emphasises this point – 59% of respondents still have at least one vacancy unfilled from the last 6 months, and of these, 73% have two or more vacancies unfilled.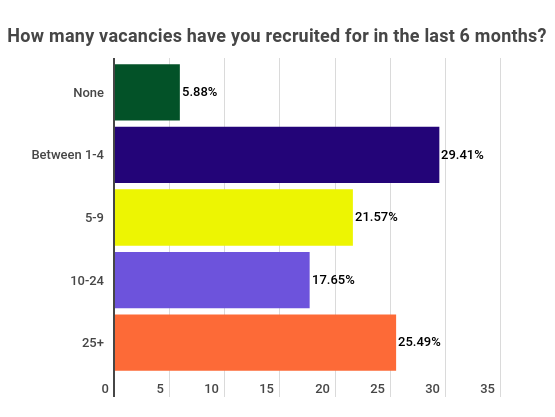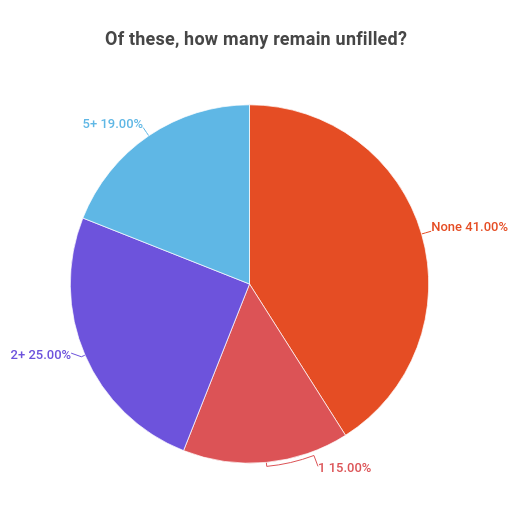 With 2020 fast approaching, it's time to make a resolution before the New Year kicks in to get those vacancies filled! That may sound easier said than done, but it might be a simple case of just taking a different recruitment approach.
Most successful recruitment methods
Our research has highlighted that job board advertising (either directly or via a fixed-fee recruiter such as Hiring Wizard) has delivered more than twice as much success as any other method.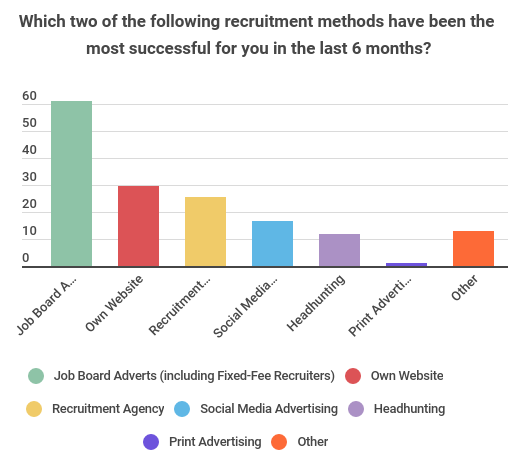 As the chart above demonstrates, job board advertising can be a very effective recruitment method. However, to generate the best quality and quantity of candidates, it's vital to ensure your adverts are standing out from the competition and targeting the right people.
Whilst many businesses may choose to advertise directly with job boards, the best fixed-fee recruiter can add significant value in the following ways:
Lower costs – a fixed-fee recruiter should have access to significantly discounted prices with job boards which often enable adverts to be placed on all of the top job boards at a similar or lower cost than one job board directly. This ensures you'll get access to a much wider selection of candidates across multiple job boards rather than the limited number of candidates from just one or two.

Improved efficiencies – most fixed-fee recruiters will also undertake all of the response management for you including filtering CV's, screening candidates and even carrying out initial telephone interviews. This can take a significant burden off an in-house recruitment team or even the recruiting managers in many cases, thereby allowing them to focus on their real job rather than distracting them and reducing their productivity.

Premium positions – many job adverts will get lost amongst the hundreds, if not thousands of similar jobs on a job board. A good fixed-fee recruiter however, will ensure your advert appears at the top of search rankings through sponsored and premium positions (at no extra cost), as well as ensuring keyword optimisation of the advert before placing it. This enables the best quality candidates to see your advert early on.

Brand stand-out – creating brand stand-out within your advert is also crucial to ensuring high quality candidates. This entails far more than just your company name – although be warned many fixed-fee recruiters and all traditional agency recruiters will place generic adverts that don't reference your company name. This can seriously impact the quality of candidates who apply – after all, why would you be interested in an opportunity if you don't even know who it's with? The top fixed-fee recruiters will not only mention your name, but also ensure the key benefits of working for your brand are communicated.
Taking a different approach
Over 60% of the survey respondents agreed that the lack of suitable candidates has cost their business money over the last six months. Furthermore, more than 20% of respondents do not feel optimistic about finding the right quality people over the next six months.
So it's vitally important to consider what other recruitment methods might be worth trying in order to ensure you get the right quality and quantity of candidates for your roles. Even if you're using job boards currently and they're not delivering, it's important to establish why. Some of the key questions to ask should include:
Are you on the right job board(s)?
Are you on enough job boards to access the right volume of candidates?
Do your adverts achieve high page positions on job board search results?
Do you have a strong brand proposition communicated within the advert?
Job board advertising won't work 100% of the time, but if it doesn't, there should be a good reason why, so start by making sure you can say "Yes" to these questions.
If the advert is still not delivering, in our experience, it is usually because a role is too niche or specialist to find the right quality candidates. In such cases, we will always provide our clients with alternative suggestions and solutions – for example, taking a different approach to find the perfect candidate such as headhunting (our sister company, Executive Headhunters can help with this).
Summary
The recruitment challenges faced in 2019 look set to continue for the foreseeable future so it's worth reviewing your current methods and seeing what's working and what's worth trying to do differently.
Notes
Our Bi-Annual Recruitment Trends Survey is undertaken every six months across the full spectrum of organisation sizes and sectors. Our most recent survey was undertaken in November 2019 and received over 100 responses.
Hiring Wizard are experts at providing fully branded and optimised advertising campaigns across all the major UK job boards and delivering significant cost savings for our clients. We also offer a suite of additional services including CV filtering, proactive candidate generation and telephone interviewing.
So if you want to improve the quality of candidates you receive from your job ads, give us a call on 0161 696 8899 or email us on info@hiringwizard.co.uk